Beauty Spot: Ombre Hairstyle How-to with Alterna's One Night Highlights Temporary Hair Color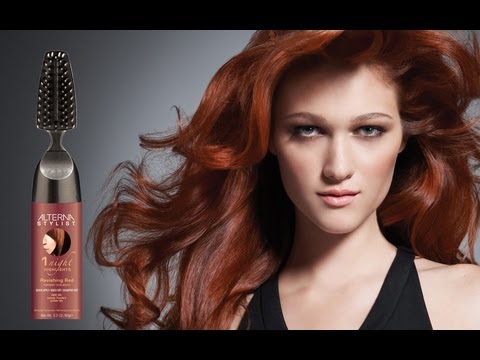 Have you ever wanted to try out a hair color without the commitment? Me too. Now, thanks to Alterna, we can! Alterna recently released a new temporary hair color mousse that deposits color to your strands in rich red, brunette, golden blonde, and now pink (for breast cancer awareness month). The temporary hair color lasts as long as you don't wash your hair. Once you take a shower, you wash all that color down the drain. Phew.
Alterna sent me the Ravishing Red color to try (I always wanted to see how I would look as a redhed!), and I decided to apply the color from the ends up to achieve the ombre hairstyle that is trending right now. Watch the video to follow along with my step by step application, and try it for yourself. Or, simply do an all over application if you want to try out a different hair color, or use the temporary hair color as an accessory to your Halloween costume. If you try the Alterna One Night Highlights, tweet a picture of your new hair color to me (@gretaeagan)- I'd love to see!
What it is formulated WITHOUT:
- Parabens
- Sulfates
- Synthetic Dyes
- Phthalates
- GMOs
- Triclosan
What else you need to know:
Each formula is free of ammonia, peroxide, and synthetic color and are safe for color treated hair. Shimmering Blonde is best for use on light to medium brown hair and not intended for blondes with high lift highlights. Sweet Caramel and Ravishing Red are best for use on light to dark brown hair and not intended for lowlights on blonde hair.
Tweet